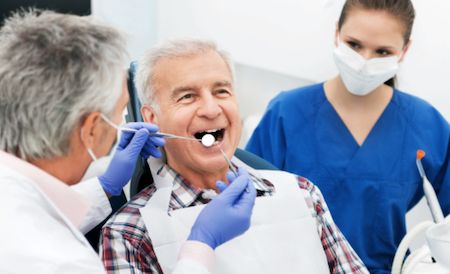 As we grow older, our bodies undergo a variety of changes. Many older adults focus on medical problems but neglect to follow up about signs of poor oral health. Regular dental visits are particularly important as you grow older, as age puts you at higher risk for a variety of oral health problems.
Common Oral Health Problems Associated with Aging
One of the
most common oral health problems associated with aging
is yellowing or graying teeth. This occurs when the enamel, or hard outer covering, of your teeth becomes worn down. Older individuals may also be more susceptible to
root decay
, which can eventually lead to tooth loss and the need for either
dental implants
or
dentures
.
Additionally, because aging decreases immune system reactions, it may be more difficult for older adults to maintain a healthy population of "good" bacteria in their mouths. This makes infection more likely, which can affect the health of the teeth, gums, and even surrounding bone tissue. Those who do develop infections will need to receive a gum disease treatment and may find that they heal less quickly than when they were younger.
How to Keep Your Teeth and Gums Healthy
Fortunately, you can work to keep your teeth and gums healthy into your 60s, 70s, and beyond. Consider the following recommendations:
Eat a healthy diet and exercise regularly. These lifestyle factors lower your risk of chronic diseases that can affect oral health.
Quit smoking.
Boost your intake of calcium and vitamin D. Increasing calcium consumption is particularly important for postmenopausal women, who are at higher risk of bone loss.
Maintain moderate alcohol consumption.
Brush your teeth twice per day. Use a gentle circling motion to prevent damage to the enamel of your teeth.
Floss every day. Flossing helps to clean your mouth of bacteria that can cause gum disease.
Visit the dentist regularly. Make sure you visit the dentist at least twice per year, or more as recommended. Regular cleanings will keep your teeth healthy.
We pride ourselves on high quality treatment for all our patients and their families. Contact us today to receive top quality care from the best dentist in La Mesa. We would love to hear from you!